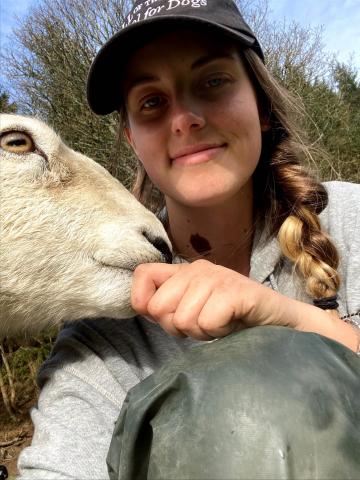 Trainee Shepherd
I didn't know anything about sheep or even farming before I came here, so I would be doing all sorts of things wrong with them at first, like standing in the way whilst trying to move them!
But the things I've learned at Borders College, and from other farmers, have meant my knowledge and confidence about working in sheep farming have really improved. I have been really lucky to learn and work with Julie, as she's one of the top sheepdog trainers and competitors in the world, and she's been teaching me her dog training technique 'The Natural Way'.
I have been fortunate to have a great beginning into the industry and I feel like I am ready to be more full-time on farming. I am about to start a new chapter in my life as I begin a new career on a sheep and beef farm. It is the dream opportunity that has arrived at the perfect time for me as I finish up my apprenticeship.
Knowing that my work has value and that I'm making a difference has been a huge boost. My dogs are brilliant therapy, and since starting at the farm with Julie and all the animals, I've never been happier, and my confidence in everyday life has really grown. If I have any queries, other farmers are always helpful and it's nice to feel part of that community.
I wanted to get experience with other animals, so I've been working at some other places too and that's been rewarding as well.
My top careers tip would be that you should say yes to any job or volunteering that you're offered. Don't be afraid to put your name out there as there will always be someone willing to help you. Any experience you get, whether good or bad, will help you make up your own mind about your future.
Amy's route into agriculture
Came from a town with no experience of a working farm
Got a collie and started working with sheep
Joined Julie Hill at Neth Hill Border Collies and did a Modern Apprenticeship
Starting new full time job on large sheep and beef farm in July
Set up Celtic Shepherdess website to share how great it is to work with sheepdogs