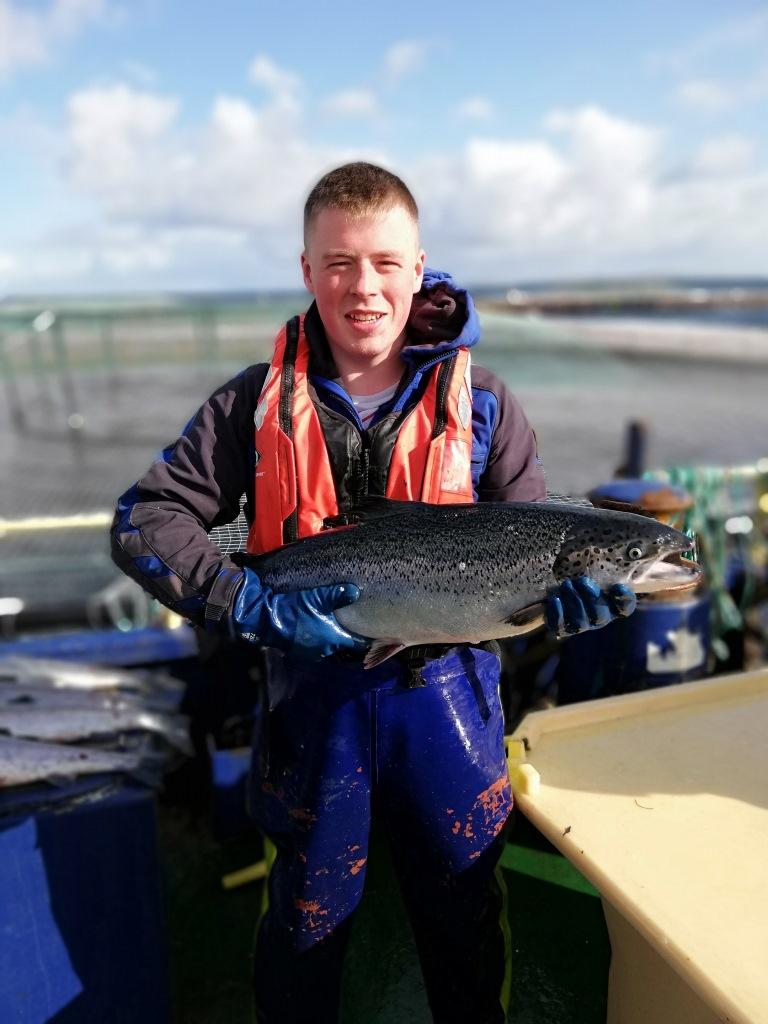 Billy Welsh, aged 24 from Stromness in Orkney, has been doing a Modern Apprenticeship in Aquaculture with Scottish Sea Farms through NAFC Marine Centre UHI.
"Since I was a little boy I've always wanted to work on boats, it's in my blood. My grandfather, uncles and cousins have all worked at sea all their lives and I've always wanted to follow in their footsteps. 
When my son was born two years ago, I was living in Shetland and working for a shipping company. Although I enjoyed it, there were often weeks with poor pay. I was talking with a friend who worked for Scottish Sea Farms, and he told me all about the jobs they had, and it was then that I decided that this was the career for me. I would get the job at sea I'd always wanted and I wouldn't miss out on my son growing up.
I soon saw an advert for trainee husbandry staff in Orkney, applied, got an interview, got the job and moved there from Shetland about three weeks later. It has been the best decision I have ever made.   
There are many different parts to my job. My main role is fish health specialist, so monitoring of environmental conditions and the fish's health and welfare are in my hands. I take environmental records of oxygen and salt levels within the water, the sea temperature, plankton trawls and plankton counts underneath a microscope. Once a week I catch ten fish out of each of our holding units, anesthetise them and carry out fish health checks, looking at their gills, their overall condition and checking for anything unusual. I can also take blood and histology samples if required. I then transfer this information onto computer and email the fish health manager a weekly report.
When I'm not doing the fish health side of things I am usually carrying out other onsite duties such as feeding the fish, site maintenance, net washing and boat maintenance.      
     Since starting with Scottish Sea Farms I have been on loads of training which has helped shape me into the competent salmon farmer that I am now.  I have completed two SVQ's (level 2 and level 3) and courses in fire fighting, fish welfare, fish health, powerboats, VHF radio, sea survival, first aid, forklift, sea crane, capstan, day skipper practical and theory, feed and nutrition, manual handling, COSHH, working at height, abrasive wheels and more.
I am currently in the middle of completing my coastal skipper course Which will allow me to take and be in charge of the work boats in darkness and over greater distances. I have been told that with this ticket it would be possible to take a boat from Orkney to Greece...
I find it satisfying and rewarding when I look back and realise when our fish are gone that I played a part in ensuring that they had the best possible life they could. At the end of the day, we are growing fish for them to be sold as food. It makes me happy to know that we are supplying a great, clean, premium and tasty product to our customers. 
Over the next few years I'd like to develop my skill set even further and climb the chain within the company. First of all to a supervisor and then a couple of years after that a manager. I want to keep seeing the excellent results that we have been getting at our site, I also want to pass on the skills and knowledge of the job to new employees that I will meet over the years. In some workplaces the room for progression is slim, but at this company, hard work and good results are rewarded. If you show that you are hardworking and determined then there is a strong chance of progression. The salmon farming industry is massive at the moment and is growing bigger and bigger every year.   
My greatest achievement so far is the completion of my SVQ level 3 and the passing of my coastal skipper theory course. It's been a long time since I've done any studying or been challenged like this, but to get the bit of paper at the end of it proving that I can do it is a great feeling.  
My advice to anybody thinking about going to apply to become a fish farmer is just to do it."