Content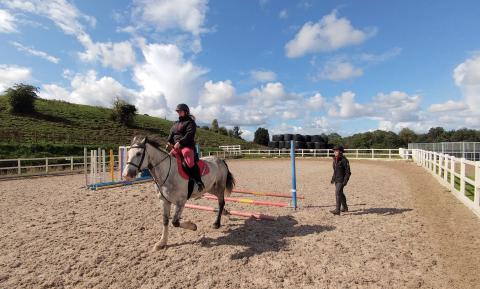 Approved Training Farriers work as Registered Farriers but also employ, train and supervise the work and professional behaviour of Apprentice Farriers.
The level of supervision is the responsibility of the ATF and can range between: 
Direct Supervision - The apprentice is working in the same area as the ATF and is being observed

General Supervision – the apprentice is working in the same premises as the AFT, who can be located quickly and easily

Under Direction - the apprentice is working alone using his/her own initiative  but the ATF has discussed the shoeing plan prior to work being undertaken.
 An ATF will support their apprentices to achieve each stage of the Farriery Apprenticeship:
 

M

andatory college assessments 

Level 3 Diploma in Farriery (work-based),Farriery Advanced Apprenticeship requirements including Level 2 Key Skills

Diploma of the Worshipful Company of Farriers Examination

The period of training prescribed by the Farriers Registration Council (currently four years and two months).
ATFs work closely with College tutors, assessors and verifiers, Field Officers, Horse owners and Vets.
Working Conditions 
 Farriers working hours vary from week to week, depending on the needs of their customers and usually include weekends. They do most of their work during daylight hours; however, they may also provide emergency cover which can be at any time of the day or night.
They travel between different customers' workplaces, such as farms, riding stables, and livery yards, to carry out their work. A driving licence is necessary as is a vehicle suitable for carrying around a mobile workshop of stock and tools.
Farriery is hard, physical work. It involves bending, lifting and walking, and sometimes working outdoors in all weather conditions.
ATFs will often spend additional time with their apprentices in the forge to provide practical training in shoe and tool making.
Content
Salary
Salaries vary with experience, qualifications and between companies, but here's a guide to what you can expect.
Content
Getting started
To become an ATF you will need to have been qualified as a Registered Farrier for a minimum of 4 years before applying to become an ATF. Before this you will have undertaken the Advanced Apprenticeship in Farriery.
What experienced workers can do
Market your services and find new customers

Manage a small business

Provide coaching and mentoring to an apprentice

Maintain and operate mobile gas and coke fired forges

Handle and control equines

Assess the overall condition and footcare requirements of the equine

Determine the footcare and shoeing plan for the equine

Remove horseshoes and assess wear

Trim and dress hooves

Make and fit horseshoes

Attach horseshoes and finish the shoeing process.
Personal qualities you should have
Have a genuine interest in horses and their welfare

Good communication skills

Good organisation skills

Flexible and adaptable

Self-motivated

Be able to work alone or as part of a team.