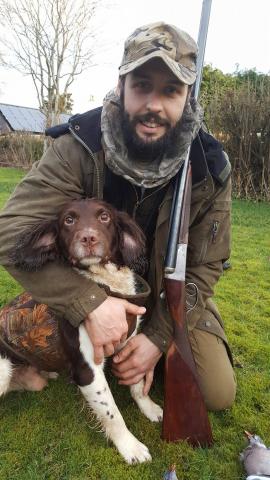 30-year-old Iain Macmaster has a lot on his hands looking after six miles of riverbank at Finavon Castle Water on the South Esk. He describes himself as a ghillie, fishery, estate and wildlife manager, which as the job title suggests, involves a wide range of responsibilities and skill sets. 
Iain eplains: "On any given day I could be acting as ghillie, forester, maintenance man, stalker or gamekeeper. I suppose that makes me a jack of all trades but I love it. I also run a rural education programme for the Esk District Fishery Board which involves going into local schools to talk to the kids, and then inviting them to the estate to see how the land is managed and learn about the riverine environment. The kids love it, and I find it a really interesting and rewarding thing to do."
One of Iain's main roles throughout the growing seasons is grass cutting, track maintenance and tree felling. This important work ensures easy access to the fishing beats, maintains the look of the estate and helps control invasive species such as Giant Hogweed and Japanese Knotweed, as well as animals such as Roe Deer, American Mink and Sawbilled ducks throughout the license period.
Iain said:" I spend a lot of time felling trees and processing firewood for the estate, cleaning up after any winter spates, feeding pheasants, and repairing and maintaining infrastructure. I am enjoying seeing my work and influence on the estate starting to become more obvious, which is a really satisfying aspect of the job."
Iain also relishes the interaction he has with the general public. As a ghillie, he supports tenants who come to fish the river for salmon and sea trout. This can involve tutoring novice anglers, or providing helpful advice to someone who already knows a section of river intimately.
He said: "I meet all sorts on the river and that's one of the things I love about my job. I've been fortunate to have some wonderful times and conversations with people ranging from Vietnam veterans to taxi drivers and tradesmen. There's not much I can do about the river conditions or the number of salmon in the beat, which is why it's important to provide people with a warm welcome, tidy huts and a kettle on the boil."
Iain has been working at Finavon for six years now, and through that time has built up an impressive portfolio of vocational qualifications. These include chainsaw tickets, a two-year fisheries management qualification through the Institute of Fisheries Management, deer management qualifications, and he has also just passed the Scottish bailiff's exam through the Institute of Fisheries Management.
He said: "I'm now a warranted bailiff for the Esk district. A big part of my role is simply being a presence on the river, and developing links with local people who know that the area is being looked after, which is important from a security point of view.
Controlling poaching is a natural part of my job and ensures our beat isn't overfished. We work closely with the local authorities and people who use the river regularly. Being able to communicate well and gain people's trust is a key part of the role, which I enjoy immensely."