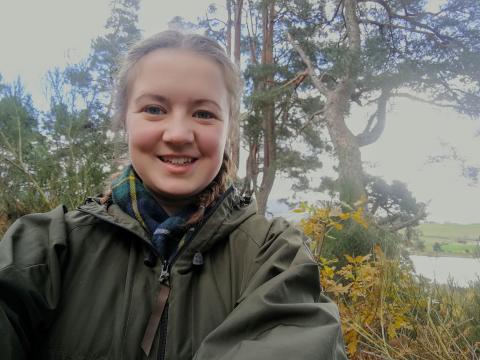 Isla did an honours degree in Forest Management with Arboriculture and Urban Forestry at the Scottish School of Forestry, Inverness College, UHI. She began working for Glengarry Community Woodlands as an assistant supervisor for their Forest School programme while undertaking her studies, before graduating and becoming an Assistant Forest Manager with Scottish Woodlands on their Graduate Development Scheme.
"She explained: "My interest in forestry started at a very young age. As the daughter of a forester, I got an insight into the industry that most children don't have. I got to see huge forestry machinery up close and sit in the cab, watch my dad use his chainsaw to cut down trees (always from a safe distance of course) and have the forest to explore and be my playground. Having a childhood filled with these experiences sparked and nurtured my passion, love and respect for forests and the natural environment.
When making choices for my education I decided to study and pursue a career in forestry. It is a land-based industry that offers an outdoor working environment, and the opportunity to share and exchange knowledge by engaging with people in the sector. Since beginning my career I have been encouraged by how the industry strives for equality, diversity and climate change mitigation, all of which are very important to me as a young woman in the industry.
In my role at Scottish Woodlands, I am gaining experience in woodland creation and managing existing forests. My job is varied and I undertake site visits, field surveying, work programming, forest works supervision, digital mapping and desk-based paperwork including producing forestry operation contracts, completing forestry grant scheme applications and other administrative tasks. There is a great balance between outdoor and desk-based work and the role requires a lot of interaction and communication with fellow staff, contractors and other industry professionals.
I earned my honours degree from the Scottish School of Forestry, which is a fantastic place to study. The college offers a great combination of classroom lectures, field visits and guest speakers, which provides a unique study experience. The networking opportunities are excellent, with access to industry group meetings, talks and events. My experience at the college gave me the qualification, tools and confidence to launch my career in the forestry industry after graduating.
I'm also a Lantra Industry Champion, acting as an ambassador for forestry and promoting land-based study and careers.
In the future I would like to continue to learn and develop my skills as an assistant forest manager with Scottish Woodlands Ltd, and gain experience that will allow me to progress beyond the graduate development scheme and to grow the industry. There are many exciting opportunities in this thriving industry. I would also like to continue my role as a Lantra Industry Champion, because it is an exciting initiative with great opportunities for training and networking."