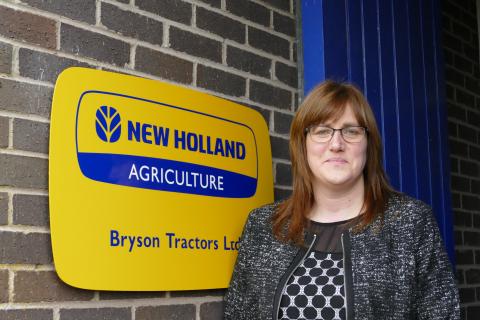 Nancy Bryson is a director of Bryson Tractors Ltd, an agricultural dealership in Lanark employing 18 staff working across management, sales, stores, administration and the workshop.
She believes that training is vital to the continued success of her business.
"I really do see training as an investment, as there are lots of benefits for our business and staff.
We've put people through training on our different products, the technology involved, sales, management and marketing through social medial, websites and advertising.
By giving them a better understanding of our business and what they're working on, we see improved productivity.
We also employ Modern Apprentices, and for the workshop it's the best way to train staff for the future.
Trainees learn by being mentored by other people in the workplace, so on-the-job learning provides a really effective start to their career path. Everything is done to a national standard working with a college, so it meets our needs and gives the Modern Apprentices a worthwhile qualification.
Many of our existing employees have been through a similar process, and so understand the benefits too.
In the workshop we put apprentices through the New Holland scheme. With developing technologies there is continued learning throughout their career, and this provides plenty of opportunity to progress in their jobs and become Master Technicians. 
We work in a fantastic industry which has a huge variety of machines and applications, so no two days are the same.  Our workshop technicians can be out in a field resetting a tractor guidance system, rebuilding a gearbox in the workshop, carrying out servicing at an industrial site or even working on a machine at a premiership football team pitch.
The skills our staff need will just keep growing and becoming more demanding over the years, so the value of investing in and finding new people becomes ever more obvious."