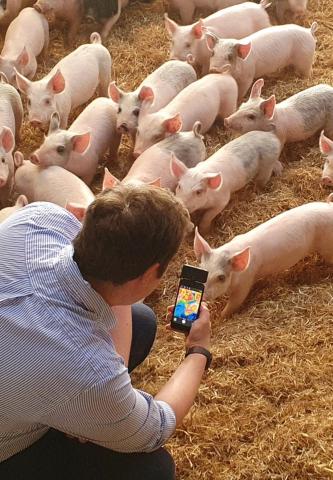 Implementation Manager at ThermaFY Group
Growing up on the family farm, which is a mixed farm of arable, beef and sheep in the Scottish border, I was able to gain experience working with my dad and took on quite a bit of responsibility from a young age
I left school with next to no qualifications and went on to Borders College to study an NC in agriculture before doing a modern apprenticeship.
I completed that on a neighbouring farm, growing a diverse mix of arable crops, blueberries, broccoli and cauliflower alongside beef and pig B&B.
It has a very progressive culture with the use of technology such as John Deere's Green Star for precision farming and auto steer. I gained a lot of experience there and ended up in charge of spraying 2,500 acres of arable crops and blueberries using the latest precision farming tech.
During my last 2 years with the farm, I spent winters in New Zealand for a few months in a custom harvesting crew, learning new ways and gaining new experiences of the ways they do things out there.
Once back home, I saw an advert from ThermaFY, a local company that specialises in thermal imaging and analysis. They were looking for an open-minded person with a background in agriculture and an interest in technology and innovation, so I applied and got taken on.
We develop ways to identify change across a wide range of issues such as infection in people, gestation cycles in animals and the efficiency of domestic heating systems.
As an example from one of the sectors we work with, we have developed a temperature scanning station for COVID 19 that's now in NHS hospitals., and are using the same software to check for disease in livestock.
We have some really exciting projects at the moment. There's a tremendous opportunity partnering with Microsoft to look at foot and mouth disease in Columbia, and we're working with the Royal School of Veterinary Studies to look at mastitis and lameness in dairy cows to reduce use of antibiotics, minimise milk wasted and increase productivity.
I feel like we need to embrace the change in technology or risk being left behind. The more we can utilise it, the more we can improve our performance and efficiency, especially in agriculture.
On a day-to-day basis I could be doing anything anywhere, depending on what's going on. One day I could be installing a scanning station in a hospital in London and next I could be taking pictures of cows in Scotland.