Content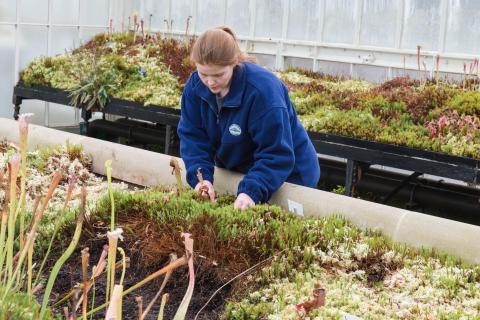 Florists use creativity and knowledge of plants and flowers to design and assemble floral displays which can be sold through shops and other retail outlets to the general public, businesses or event organisers.
Flowers and floral displays are used throughout our lives, in personal circumstances like births, romances, deaths and marriages, and in corporate or other public events. The UK's fresh-cut-flower and indoor-plant market is worth £2.2bn at retail level and we spend an average of £36 a year on flowers.
A Florist's duties usually include:
O

rdering, unpacking and conditioning flowers and plants for different occasions

Making up bouquets and arrangements based on their own knowledge, ideas, and design books to meet customer requirements

Helping customers to choose suitable designs, flowers and plants for different occasions

Setting up displays at conferences or exhibitions

Maintaining a sufficient supply of fresh flowers, foliages, plants and sundry items using stock taking procedures.
A good level of customer service, communication and sales skills are needed for florists to maximise levels of customer service, sales opportunities and assist customers with their orders and purchasing requirements. An extensive product knowledge including the seasonal availability of flowers and foliages will also be required.
Florists need to use technical skills, creativity and flair to make original designs. Caring for flowers and plants to keep them in the best condition and prolong their life is an important part of the job, so Florists must have knowledge of the structure and needs of different flowers and plants.
Florists condition their fresh flowers and foliages by cutting stems, removing damaged flowers and leaves, placing flowers and plants in water and checking for pests. A wide knowledge of indoor plants, may be required as these may be installed and maintained in offices/workplaces or sold as gifts.
To create displays, Florists will use a range of tools including knives, scissors, secateurs, support wire, and tape. Displays can be arranged in different containers such as pots, vases and baskets, using foam and other materials. Often ribbon and other decorative accessories are used. Florists may also use dried or artificial fabric flowers.
The creation of floral arrangements for occasions such as weddings or funerals requires a high level of skill and detail often involving intricate techniques and artistic ability.
For Florists who own or manage a shop there will be additional duties and business skills required such as staff management, administration and accounting.
Working Conditions 
Florists usually work a standard full-time week during shop opening hours, Monday to Saturday, 8am to 6pm. There may be times when they are required to start work early or work additional hours, especially during peak periods such as Valentine's Day and Mother's Day. Hours often vary for self-employed florists. Part-time opportunities are also available.
Florists mainly work indoors in a work area or a sales area of a shop where flowers are kept in cool conditions. Some may be required to make deliveries, so a driving licence is useful.
The work of a Florist will involve a lot of standing at a work bench or shop counter.
Content
Salary
Salaries vary with experience, qualifications and between companies, but here's a guide to what you can expect.
Content
Getting started
It is important to enjoy providing a high standard of customer care and be enthusiastic and creative about working with flowers and plants.
There are an estimated 8,400 floristry businesses within the UK, employing around 28,000 people. Most shops are small business employing less than five people, although some are part of small chains. There may be both full-time and part-time opportunities. A few large venues, event organisers and undertakers may employ their own florists.
Floristry businesses are often linked together by large 'relay' companies who organise flowers to be made up and delivered by a local Florist in their network, regardless of where the flowers are ordered.
There are no set academic requirements to become a Florist, although a qualification in floristry may be an advantage.  Experience of working in a florist shop may also be useful. 
What experienced workers can do
Process orders for retail customers

Maintain the condition of plants and planted designs

Display stock to promote sales to customers in a retail environment

Construct a range of floral designs, including for weddings, funerals, birthdays

Help customers choose products in a retail environment

Assemble tied and wired floristry designs

Prepare plants and other resources for transportation.
Personal qualities you should have
Good communicator

Good listening skills

Able to work to tight deadlines and plan your time

Creative and able to transform ideas into a design.
Content
Next steps
For Florists with the experience and enthusiasm to progress, there may be opportunities for promotion to a managerial position.
Florists with the right practical and business skills can become self-employed by opening their own business.
With experience, Florists may become freelance workers for a variety of businesses, teachers or professional demonstrators.
Useful links
The Flowers and Plants Association
National Association of Flower Arrangement Societies