Content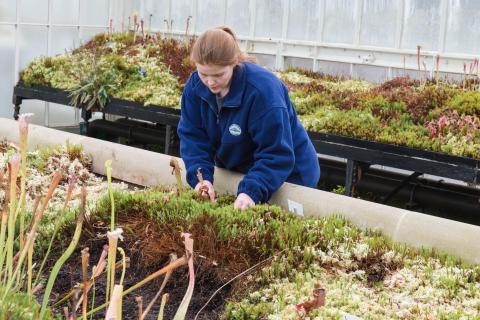 Horticultural Production Managers raise crops, plan strategies for maximum yield and sustainability, organise farm or nursery administration, work machinery, organise associated businesses and manage staff.
They need to have technical and practical competence coupled with the ability to make sound business decisions.
Ornamental plants can be produced to end up in your local park or the shelves of garden centres. The trees, shrubs and flowers we all enjoy looking at are grown at ornamental plant nurseries but can't be eaten.
Fruit and vegetable production for apples, pears, plums, cherries, raspberries, strawberries, blackcurrants, carrots, potatoes, broccoli, salads, tomatoes, cucumbers, peppers, mushrooms, watercress takes place in fruit and vegetable nurseries and farms.
Both areas of production may include either field production or protected production in glasshouses or plastic tunnels.
The technology involved in growing ornamental and edible plants, plus the job opportunities from management to marketing make working on an ornamental or fruit or veg nursery a rewarding career. 
Working Conditions 
Horticultural Production Managers often work longer than the conventional working week. The nature of the job means that they may be on call day and night.
There are often no set hours and certain times of the year are particularly busy. Early morning starts are typical. The hours worked are determined by the season, so at harvest time, days can be longer.
Practical work on the farm or nursery is usually outdoors, in all weather conditions. Horticultural Production Managers also spend time in an office dealing with paperwork. On a smaller site the manager will get involved in more of the production tasks.
Content
Salary
Salaries vary with experience, qualifications and between companies, but here's a guide to what you can expect.
Content
Getting started
Many Horticultural Production Managers start by working at nurseries and develop their career through apprenticeships, combining on-the-job training and practical experience with day-release at a college, as well as developing specialist skills. People management and customer service skills are also vital.
What experienced workers can do
Be able to prepare contract specifications and monitor and maintain agreed contracts

Be able to manage budgets for your area/s of responsibility

Manage the quality assurance system

Produce plants for your area/s of responsibility

Recruit and manage staff.
Personal qualities you should have
Interpersonal skills  

Work on your own

Time management

Self-motivated

Flexible working

Mobility.
Content
Next steps
From large glasshouses to very large sites specialising in field-grown vegetables, fruit growing or shrub growing, there are many opportunities to progress within this industry.
This could be working on multiple sites, in regional management, or even as consultants or civil servants making policy with Government bodies.
There are opportunities outside growing too, as supermarkets need require field officers to manage the need for a daily supply of fresh produce.
Suppliers, who provide everything from packaging to chemicals, need specialist advisers and research workers to develop new products.
Useful links
British Association of Landscape Industries
British International Golf Greenkeepers Association
Greenkeepers Training Committee
Horticultural Trades Association