Content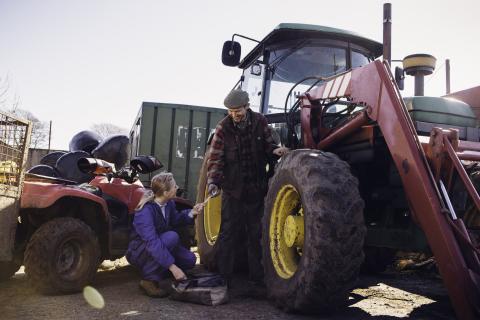 The parts manager's role is very important to businesses, as it includes managing the parts department budget stock, which is parts kept on the shelf in store and promotional stock in the shop, like tools, spare parts and toys.
They are also be responsible for staff involved with the parts department, apprentices, trainees, qualified parts people and senior parts staff.
Parts managers will be required to work with directors or owners of the business to discuss business plans, targets and stocking rates and levels.
They work closely with repair workshops, making sure there is good communication between departments when dealing with customer requirements for parts when machines break down, and for machines being sold.
One of the most important parts of any agricultural dealership economically is the parts department.
Parts are used for repair of new and second-hand goods being sold and for supplying customers who need replacement parts for existing machines. So the parts department is very busy and makes a big contribution to turnover and profit.
Keeping costs down is an important part of the parts manager's role.
Managing the flow of stock is vital, so stock on shelves needs to be turned over as quickly as possible, accounted for and charged out.
Working Conditions
Managers working within a multi-branch business may need to travel to make sure targets and stock control are being managed correctly and meeting agreed target levels.
The parts department is the heart of the dealership business, so working with sales and service management team is an important part of meeting the needs of each departments for spare parts service.
Attending monthly management meetings and carrying out staff appraisals is an important part of the role.
Parts and Stores Managers are responsible for making sure that their teams work with internal customers. 
Content
Salary
Salaries vary with experience, qualifications and between companies, but here's a guide to what you can expect.
Content
Getting started
Employers are looking for people who:
Have an interest in a range of equipment

Enjoy practical hands-on work

Enjoy problem solving
What experienced workers can do
Manage budgets

Manage resources including stock and staff

Identify and plan development of staff

Liaise with and interpret customer requirements

Be able to provide technical support

Liaise with manufacturers.
Personal qualities you should have
Good communication skills

Initiative

Able

to make decisions

Good at problem solving
Content
Next steps
There are two routes for people to enter the industry either through an Apprenticeship or and Industry Apprenticeship with a dealer or manufacturer. 
A Parts or Stores Manager is likely to have progressed from a parts or stores person and have experience within the trade or associated industry or through working in workshops or in Sales.
Having a clean full driving licence will also help. 
Most opportunities will come from working for all sizes of business, but progress to a Sales Manager or Branch Manager may be possible with further training and experience.
Useful links
Agricultural Engineers Association
British Agricultural & Garden Machinery Association (BAGMA)
Institute of Agricultural Engineers