Content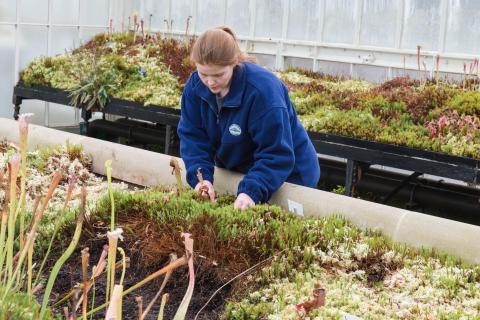 A plant pathologist is someone who's interested in understanding the organisms and agents that cause plant diseases and how diseases affect plant health. There are a great range of plant pathology careers. Most plant pathologists work in university departments, commercial companies or do government funded research.
Some of the things a plant pathologist does:
Diagnose and deal authoritatively with enquiries about plant disease

Undertake research, publish results and communicate the results to gardeners

Assist in the preparation of proposals for research projects

Work with relevant organisations and attend conferences to promote horticultural plant pathology

Help prepare lectures, examination materials and demonstrations on plant diseases.
Pathologists are mainly employed as researchers or consultants who work in a variety of fields aimed at tackling crop or garden pests and the insects and diseases that spread plant, human and animal diseases. Pathologists are also concerned with the conservation of our native flora & fauna and their habitats.
Most pathologists are employed by various public organisations, such as the research institutes, museums, universities and national and local government departments concerned with agriculture, horticulture, health, conservation and environmental protection.
In the private sector they are employed by agricultural estates, pest control contractors and companies that develop and manufacture biological and chemical insecticides, and by environmental consultants, County Wildlife Trusts and other environmental charities.
Working Conditions 
Working hours will vary according to the exact nature of the job.
Plant Pathologists working in research and higher education usually work a standard full time week, Monday to Friday. Additional hours may be required at busy times. Those working in conservation may be required to host open days for the public or work with volunteers at weekends and bank holidays. They may also have to go to evening meetings.
Plant Pathologists can work all over the world and may have to cope with difficult climates. Fieldwork can be physically demanding.
A driving licence is often required to travel between different places of work.
Content
Salary
Salaries vary with experience, qualifications and between companies, but here's a guide to what you can expect.
Content
Getting started
For most Plant Pathologist positions you will need:
A degree in a relevant biological subject, plus a higher degree or alternative relevant qualification in plant pathology or microbiology

Knowledge of horticulture and garden plants and their diseases

Research experience

Experience of advisory work with the public, including public speaking or lecturing

Experience in a plant clinic or in practical horticulture or agriculture.
Many jobs are offered on short-term contracts.
What experienced workers can do
Able to keep accurate records of research

Good communication skills to convey technical information to others

Leadership skills

Research skills and

the ability to analyse, interpret and report on data

Thorough knowledge of science, particularly biology and chemistry

Problem-solving ability.
Personal qualities you should have
Interest in science and plants

Interest in

an area where botany is important, such as conservation

Accuracy and attention to detail

Methodical approach

Patience, perseverance and good concentration

Work well in a team on own initiative.