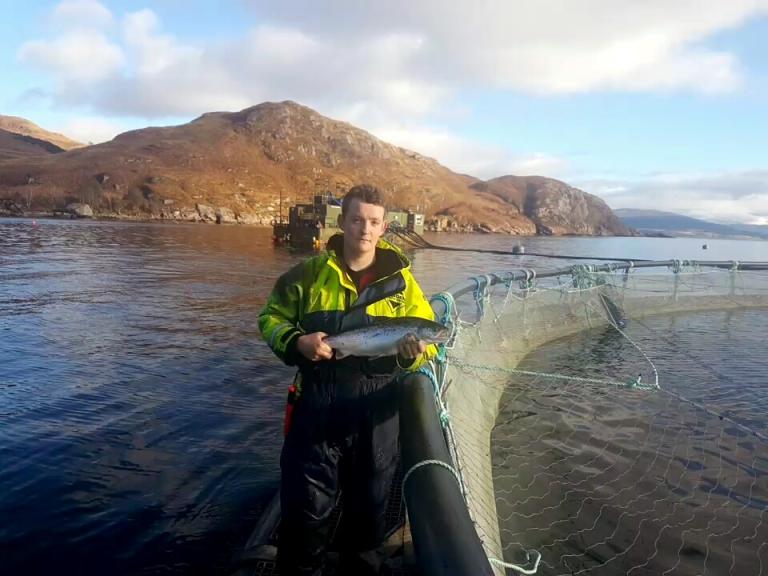 Jack Fraser — on the rise in Scottish aquaculture
Jack is one of a long line of Frasers who have made a name for themselves in aquaculture. His father Iain Fraser, has been working in the industry for over 30 years, starting as a farm technician for Marine Harvest and working his way up to site manager. Jack's uncle Neil Fraser also farmed Salmon, as do several of his cousins. 
However, few of Jack's relations have achieved quite so much in such a short time. In just six years, Jack has progressed from a 'weekend feeder' - feeding fish after school for pocket money - to assistant manager at Marine Harvest's Kingairloch Sea Farm. Not only that, but in March this year, Jack won the prestigious Aquaculture and Modern Apprenticeship categories at Lantra Scotland's prestigious Land-based and Aquaculture Learner of the Year Awards.
Jack puts a lot of his early success down to support and guidance from his father: "Without the encouragement of my dad, I wouldn't be where I am today. He taught me the importance of listening to others and learning from them. In many ways, that's how I got into fish farming – I used to help my dad at the weekend, stocking and feeding the fish to earn a bit of money. That got me enthused about aquaculture and I haven't looked back since then. Having so many family members involved in the trade helps too."
 Winning two Lantra awards also gave a boost to Jack's confidence, as well as earning him positive comments from his colleagues at Marine Harvest. Jack continues: "It's been great, I've had senior managers congratulating me and lots of people seem to have a good idea who I am. This kind of recognition is not only good for my own confidence, I'm sure it will help me achieve my career goals. They say that winning a Lantra award shows you have ability and you can work hard but I'm grateful I was nominated, as that's an achievement in itself!"
Jack joined Marine Harvest's SQV Level 2 Modern Apprenticeship scheme back in 2015. The apprenticeship combines practical work at one of Marine Harvest's fish farms, with study through Inverness College UHI. This unique blend of theory and practice prepares apprentices for the working environment and has helped Jack to secure an assistant management role at the first time of asking.
Jack said: "The apprenticeship scheme has been great for me as I have learnt so much in a short period. You are out there doing the job, learning from your peers, while the college provides the theory. It works really well and has given me so much confidence. The scheme is geared to what you will be doing in your job, so it is a great way to prepare you for the working environment."
As an assistant manager at one of Marine Harvest's fish farms, Jack has his work cut out. Along with the site manager, he has the skilled task of feeding the fish, getting a 150g young Salmon to its harvest weight of 5-6 kg, with minimal wastage and within a specific time. Jack is responsible for overseeing the feeding programme, delegating tasks to others, writing up feed reports and managing administration.
These days the feeding process has become highly specialised and technical. Most fish farms use high definition underwater cameras at different depths to give the site manager a 360 degree view. By measuring the quantity of food consumed by the fish, they prevent under or over feeding. The cameras also ensure food is distributed to the right places by showing where it is settling and where the fish are eating. Another challenge, according to Jack, is controlling disease and parasites.
"We aim to reduce the environmental footprint of our sites, so we use lump fish and wrasse in our pens as a very effective and environmentally friendly way of controlling parasites. We also treat salmon with thermolicers as well as using desalination methods"
 So what does the future hold for one of aquaculture's rising stars?
"My ten-year plan is to progress as far as I can within the company. I'd like to eventually become an area manager, where I will be responsible for several fish farms across the west coast of Scotland. In the short term, I need to complete my SVQ Level 3 and progress through the assistant manager levels, as well as complete various skills courses."
Jack has also taken on an ambassadorial role, visiting local schools on behalf of Marine Harvest and teaching young people about career opportunities in fish farming. Some are put off careers in aquaculture by the idea that it's not a very nice environment to work in, but through people like Jack, these perceptions are changing.
"I recently went to Lochaber High School to talk to the pupils about careers in fish farming and answer questions. Many of the comments are the same. People think it's only about handling fish all day, but don't realise the sheer number of different roles on offer, from administration to technical and management. Getting your hands dirty can certainly be one part of the job, but there is so much more. It's an incredibly satisfying and challenging role and this is what I want to get across to young people who are considering their options."