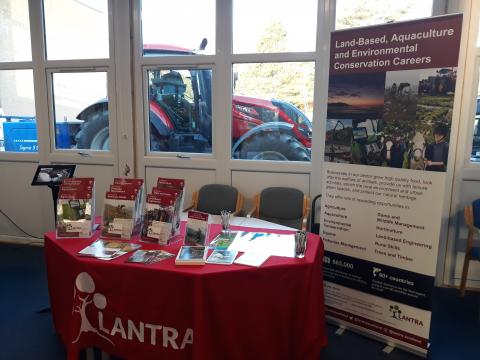 Over the last few months, Annabel and Jeni in the Lantra Scotland team have been busy travelling the country, promoting careers in the land-based, aquaculture and environmental conservation sector to primary and secondary pupils across Scotland.
Their longest journey took place on the #LantraRoadtrip last week, starting out from our office in Perth, then heading up the A9 to Thurso. Here in the northernmost town on the British mainland, they attended the STEP into STEM (science, technology, engineering and mathematics) Caithness event, and talked to S2 pupils from Thurso, Wick and Farr High Schools about STEM careers within our sector.
After a busy two days, they travelled south to Beith to attend the RHET Ayrshire and Arran Food and Farming Careers day, speaking to Primary 6, primary 7 and S2 pupils at Garnock Community Campus and highlighting the rewarding careers available in land-based industries.
All the events were well attended by pupils and teachers, so provided a fantastic opportunity to promote opportunities in land-based, aquaculture and environmental conservation and the different education pathways available to young people.