Content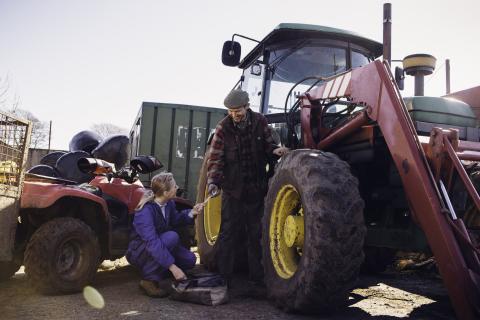 Demonstrators can specialise in products used in agriculture or horticulture, like tractors, combines, forage harvesters, mowers and tenders. Specialist company demonstrators work closely with the sales department in marketing to promote sales and aftercare support.
Customers will often ask for a demonstration to see what the machine is capable of doing before they buy it. The company demonstrators will then be asked to organise a try-out with the customer.
Once the machine gets sold, the demonstrator will often do the handover, making sure all the relevant information is passed over to the operator and customer. 
If machines fail to do the job, the demonstrator maybe asked to visit the business to see what issues are involved and find a solution with the client.
Good communication skills are a really important part of this job.
Demonstrations of machinery to customers include:
Complex high technology machinery, such as tractors, harvesters, sprayers, processors and planters, some of which use the latest technology including global positioning systems (GPS), electronic mapping and guidance systems

Professional and domestic ground care machinery such as compact tractors, rotary tillers, cultivators, quad bikes, grass collectors, mowers, chainsaws and hedge trimmers.
Working Conditions
Company demonstrators promote, sell, install and use new and existing equipment.
They have good machine operational skills and a good understanding of all products such as tractors with attachments, self-propelled machines such as forage harvesters and combines and smaller equipment such as quads and ride-on mowers.  
Demonstrators use their skills to highlight features and benefits of new and or second hand machines which may include attachments depending on what is being sold. 
The role is a very important part of the sales process as a good demonstration can make or break a deal for a new or used machine. 
They will often be working on their own and likely to do a lot of travelling to meet with customers and dealers. 
Content
Salary
Salaries vary with experience, qualifications and between companies, but here's a guide to what you can expect.
Content
Getting started
Experience is an advantage, but training is usually provided.
Employers are looking for people who:
Have an interest in a range of equipment

Enjoy practical hands-on work

Like working outdoors

Enjoy problem solving

Enjoy speaking to people.
What experienced workers can do
Be able to gather information and prepare reports

Be able to respond to customer requirements

Assess risks and operate safely

Operate machinery

Liaise with manufacturers and dealers

Determine customer requirements

Provide technical support.
Personal qualities you should have
Good communication skills

Able to work on own

Able to use initiative

Able

to make decisions