Content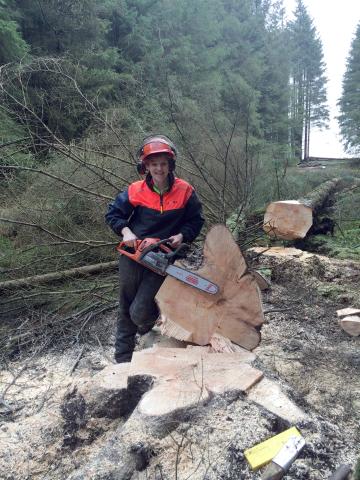 A Forestry Consultant usually works in the private sector advising clients on the selection, health, maintenance and marketing of trees and timber.  They can be brought in to advise on any aspect of forest or woodland management, conservation and timber trading. The role is varied. They must have skills and experience to manage forests and woodlands according to the wide range of objectives of the owners.
They will undertake inspections and surveys, preparing reports for their clients. These may be on individual or stands of trees or on the management of whole tracts of forest or woodland. They might make recommendations as to the work required, including the selection of species, control of wildlife (such as deer), identification of timber to be harvested and the potential markets available for harvested timber. 
Forestry Consultants will also be able to identify, and advise on the management or control of diseases affecting trees, particularly where the quality and durability of the cut timber might be reduced. 
They must also have a good working knowledge of sustainable forestry and forest conservation guidelines, such as the UK Woodland Assurance Scheme, to ensure the work they are recommending in a forest meets high standards of environmental quality and protection.
Working Conditions 
This is a highly varied career that involves both indoor and outdoor work. The outdoor work is in a range of weather conditions. Depending on the area covered, there may be a significant amount of travelling between different sites to inspect trees at different locations; therefore a full driving licence is likely to be a requirement of the job. 
Forestry Consultants typically work full-time. However, the hours may vary, and weekend, evening or Bank Holiday work can be required.
Content
Salary
Salaries vary with experience, qualifications and between companies, but here's a guide to what you can expect.
Content
Getting started
Forestry Consultants will usually have completed a degree level qualification in forestry or a related subject before working within a consultancy practice. 
They may have worked for Forestry Commission Scotland, for a private woodland or a contracting company.
Employers are looking for people who:
Are well organised and have good planning skills

Have good written and verbal communication skills

Have good numeracy 

ICT skills

Have strong interpersonal and negotiation skills

Are well informed about the profession, regulations and trends in the sector
What experienced workers can do
Tree identification

Pest, disease and disorder identification

Good computer skills to prepare plans, maps and spreadsheets.

Contract writing

Project management

Surveying

Technical report writing

Forecasting and making recommendations

Communicating with different community groups and organisations

Good customer service.
Personal qualities you should have
Be responsible and diligent

Be able to plan and manage workloads

Be able to deal confidently with others on a one-to-one or group basis

Committed to skills training and continuing professional development

.
Content
Next steps
Most people starting out in the role of Forestry Consultant will work for an established practice. Where it is possible to build up a client base there is always the option for enterprising individuals to become self-employed, establishing their own consultancy company.
Forestry consultants who have completed a level 4 qualification (or above) and worked for a number of years at a managerial level can seek to gain chartered status through the Institute of Chartered Foresters.
Useful links
Confederation of Forest Industries