Content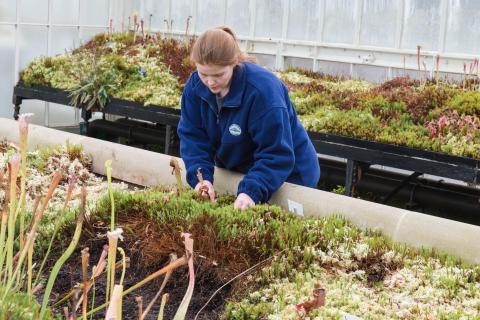 Garden Grounds Maintenance Managers plan, develop and maintain open spaces. They ensure that developments are suitable and advise others on the long-term care of the landscape.
They work on a wide range of areas, including:
Nature conservation areas and wildlife parks

Historic gardens

Woodlands (including those used for recreation)

Motorway verges

Public parks

Housing estates.
Parks/Garden/Grounds Maintenance Managers rarely carry out practical work themselves, but they do use their knowledge of plants and the environment to advise others.
Tasks vary from job to job but may include:
Deciding on appropriate sites for features such as footpaths,

Devising maintenance plans for essential jobs

Overseeing the work of employees and contractors

Monitoring the quality of the environment

Assessing the impact of any proposed change of land use

Advising on planning applications and public enquiries

Meeting landowners to discuss plans for shared borders

Liaising with community groups and volunteers.
Working Conditions 
Parks/Garden/Grounds Maintenance Managers working in the public sector usually work a standard full-time week, Monday to Friday. There may also be evening meetings and additional hours to meet deadlines.
Those working in private practice may work longer, more irregular hours. Part-time or flexitime work may be available.
Parks/Garden/Grounds Maintenance Managers are usually based in an office and may spend a lot of time attending meetings. Some jobs involve travelling to sites and working outdoors in all weather conditions. A driving licence may be useful.
Content
Salary
Salaries vary with experience, qualifications and between companies, but here's a guide to what you can expect.
Content
Getting started
Parks/Garden/Grounds Maintenance Managers are employed by a number of organisations, including local councils, national government and charitable organisations. Some work for companies involved in building, civil engineering, mining, power supply and land reclamation.
There are no specific qualifications required for this role but competition is fierce and many have a degree or HNC/HND. 
You might also benefit from experience gained through voluntary or temporary work. It may be possible to start in a more practical role like Gardener, and after training and experience, apply for jobs in management.
Some Parks/Garden/Ground Maintenance Managers have an undergraduate degree or postgraduate qualification.
What experienced workers can do
Work with, and consult, the local community

Purchase products or services for the land-based organisation

Manage a budget

Plan the work of teams and individuals

Commission contract work to enable objectives to be met

Estimate the resources required by programmes

Sequence and programme work

Manage projects

Understand health and safety issues and relevant regulations.
Personal qualities you should have
Have a genuine interest in gardens and landscape design

Flexibility

Able to solve and deal with problems

Good communication.