Content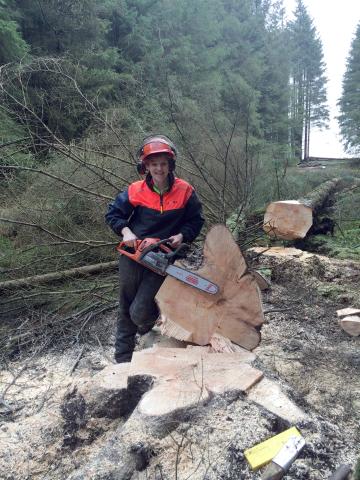 Head Foresters can have progressed to this more managerial position from a working role in the woodland. In addition to being responsible for the management of Forestry Workers, they will also undertake the planning of planting and harvesting activities and the monitoring and management of planted areas.
The role may also include significant conservation work, such as creating and restoring native woodlands. The type of practical work carried out on site will vary depending upon the nature of their employer, the type and location of the woodlands being managed. Working in private woodland or for Forestry Commission Scotland will often require a wider range of skills and knowledge, including land management skills.
A Head Forester will also usually have to control a budget and follow a business plan developed for the sites they manage. Some Head Foresters may manage several forests with Assistant Head Foresters looking after the teams at each location. Their main tasks may include planning the work to be carried out by staff and contractors, managing the maintenance of machinery and equipment, maintaining records of work and ensuring that health and safety policies are observed. They will also be required to survey and inspect trees and sites, selecting and marking up timber to be harvested as well as planning, monitoring and evaluating habitat management work.
A Head Forester will have an excellent understanding of sustainable forestry and be able to achieve high standards of environmental quality, protection and conservation.
Working Conditions 
Forest and woodland managers need a range of technical and professional skills. They will work indoors and outdoors in a range of weather conditions, and it can be physically demanding.
Head Foresters typically work full-time with some spent in the office.  However, the hours may vary and weekend or Bank Holiday work can be required.  
Depending on the area covered, there may be a significant amount of travelling between different sites. A driving licence may be required.
Content
Salary
Salaries vary with experience, qualifications and between companies, but here's a guide to what you can expect.
Content
Getting started
Forestry Commission Scotland, forest management companies, forestry contracting companies, private estates, local authorities, conservation organisations and charities employ head foresters. Most jobs are found in rural locations with large forested areas.
Employers are looking for people who:
Enjoy working outside
Enjoy practical/physical work

 

Are interested in the environment.
What experienced workers can do
Measure, record and forecast volume of timber

Survey trees

Manage harvesting operations

Identify the need for, and plan, habitat and ecosystem management work

Assess forest and woodland yields

Monitor the work of your staff

Plan and design a woodland

Manage specimen trees

Provide financial forecasts

Compile and maintain the forest and woodland inventory

Work to forest certification standards and regulations.
Personal qualities you should have
Responsibility

Initiative

Flexibility

Energetic and enthusiastic

Good with people.
Content
Next steps
Many foresters aim to complete the requirements for Chartered Forester or Arboriculturist status from the Institute of Chartered Foresters. This brings a high level of professional recognition within the sector.
Useful links
Confederation of Forest Industries