Content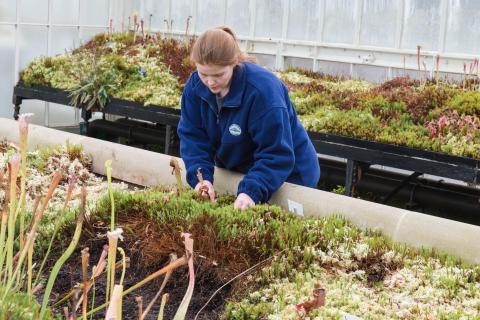 There are around 15,000 greenkeepers working in the UK in private golf clubs, local authority leisure departments that operate public golf courses, hotels with golf facilities and in ground maintenance contractors.
A Head Greenkeeper is responsible for the management, maintenance, care and overall appearance of a golf course. It is their job to maintain a good and safe playing surface and make sure the course offers a consistent challenge and an enjoyable experience for golfers.
The four key areas on a golf course of tees, fairways, greens and areas of rough each require a different type of maintenance. Greenkeepers are often also responsible for the maintenance and planting of trees, shrubs and flower beds.
Greenkeepers tour the course at the start of the day to prepare it for play. This can require very early starts to ensure the best playing surfaces are available on a daily basis. Greenkeepers also need to be constantly aware of golfers on the course, making sure their work does not interfere with play, and must keep health and safety at the forefront of all their activities.
Their work will include:
Communicating to staff, colleagues, other managers, golfers and the public

Managing budgets, finance and resources

Managing recruitment, selection and training of staff

Motivating and enthusing staff

Planning and monitoring the maintenance regime for the course

Managing the environmental policy

Managing projects and events.
Working Conditions 
The hours worked by Head Greenkeepers can be longer in the spring and summer months. In summer, work may start at around 6am in order to complete various tasks before the course is open to golfers. As golf courses usually open seven days a week, weekend work is common.
Head Greenkeepers spend their time between outdoors on the course and dealing with all the management aspects of the golf course.
Content
Salary
Salaries vary with experience, qualifications and between companies, but here's a guide to what you can expect.
Content
Getting started
You should be interested in sports turf, working outdoors, golf, and the challenges that players expect from a course.
Although this career is competitive, opportunities are available through an appropriate Modern Apprenticeship.
What experienced workers can do
Give customers a positive impression of yourself and your organisation

Support individuals to develop and maintain their performance

Co-ordinate the management of planted areas

Co-ordinate the establishment of planted areas

Implement plans for the management of sports turf areas

Plan, run and evaluate projects.
Personal qualities you should have
Flexibility

Likes working outdoors

People person

Safety aware.