Content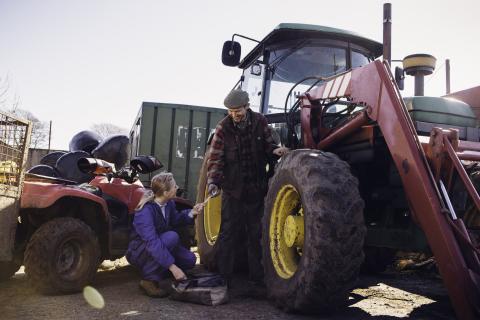 Land-based Master Technicians are able to work on a wide range of general and specialist vehicles and machines used in farming, forestry, horticulture, ground care, sports facilities including golf courses and parks. 
They can be either self-employed or employed after training with a distributor.
They play an important role in supporting management activity. They also work with Technicians within a business and have a wide range of skills. 
They are also able to mentor internal staff and provide support and feedback to manufactures in terms of updating and development of new and existing machines and equipment. 
Land-based Master Technicians will use a wide range of specialist tools, often including diagnostic equipment and laptop computers.
Working Conditions
Land-based Master technicians normally work a standard full time week, but additional work is often required, including early mornings, evenings and weekends, to meet deadlines and seasonal requirements.
They usually work in well-equipped workshops or on site from a service vehicle equipped as a mobile workshop. They will spend time travelling to customers' premises where it may be necessary to work outside, in all terrains and weather conditions.
A driving licence is essential.
Content
Salary
Salaries vary with experience, qualifications and between companies, but here's a guide to what you can expect.
Content
Getting started
Employers are looking for people who:
Have an interest in a range of equipment

Enjoy practical hands-on work

Like working outdoors

Enjoy problem solving

Enjoy speaking to people.
What experienced workers can do
Run

diagnostic tests on complex machinery and equipment

Control and adjust machine settings with IT, recording and analysing data

Carry out repairs

Mentor and support other technicians in terms of skills and knowledge

Service and maintain a wide range of plant and machinery

Adjust equipment to operate correctly

Replace parts and making new components if necessary

Using techniques such as welding to make repairs
Personal qualities you should have
Good communication skills

Able to work on own

Initiative

Able

to make decisions

Good at problem solving
Content
Next steps
Master Technicians enter this career by:
Studying for a degree in agricultural engineering or related subject, such as environmental, mechanical or automotive engineering.

Craft or technician level, by following an Apprenticeship or studying towards a relevant qualification, such as a Work-based Diploma

Joining one of the larger manufacturers that provide specialist apprentice training for those working in their dealer network. These schemes are usually run in partnership with a college.
There are currently more than 3350 businesses in the industry in the UK. Much of the work is based in rural areas but there are also many opportunities in towns and cities, especially for those technicians specialising in ground care machinery. 
Master Technicians are employed by equipment manufacturers and distributors, farmers and contractors. 
There may also be opportunities with sports club, local authorities and specialist companies offering servicing and repair for a range of equipment. 
Useful links
Agricultural Engineers Association
British Agricultural & Garden Machinery Association (BAGMA)
Institute of Agricultural Engineers