Content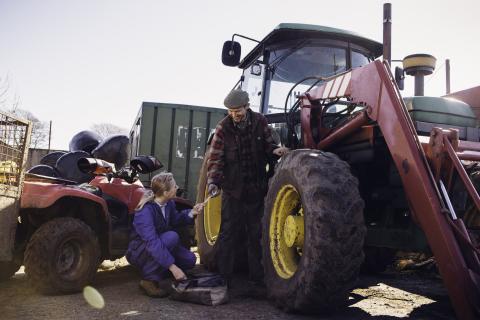 You will enter this industry as a trainee and work in a dealership to get experience of a wide range of vehicles and machinery used in:  
Farming businesses

Forestry businesses

Horticultural businesses

Ground care and sports facilities including golf courses and parks.  
As a trainee technician you will play an important role in supporting qualified technicians, workshop and repair activities as well as carrying out basic routine repair work when required. 
Duties include keeping equipment in good working order through planned maintenance, as well as carrying out diagnostic and repair work.
After completing your training and after several years of experience at a dealership you may wish to become self-employed.  It is important to keep updating your skills so you can continue to work on new equipment. 
Service engineers usually work from a van and travel to jobs on farms and other businesses. 
As a Technician you may work on, or support those working on:
Complex high technology machinery, such as tractors, harvesters, sprayers, processors and planters, some of which use the latest technology including global positioning systems (GPS), electronic mapping and guidance systems

Professional and domestic ground care machinery such as compact tractors, rotary tillers, cultivators, quad bikes, grass collectors, mowers, chainsaws and hedge trimmers

Equipment used in livestock handling and control, including milking systems, mobile handlers and feeding systems

Machinery used in forestry include tree harvesters, chippers and stump grinders.
Land-based Technicians will use a wide range of hand and specialist tools, often including diagnostic equipment and laptop computers.
Working Conditions
Technicians in the land-based sector usually work 37.5 hours a week. This may include early mornings, evenings and weekends, to meet deadlines and seasonal requirements. 
Service Technicians usually work in well-equipped workshops or on site from service vehicles equipped as mobile workshops.  Technicians will spend time travelling to and from customers' premises where it may be necessary to work outside, in all terrains and weather conditions. 
Working with agricultural, forestry and horticultural equipment can be hazardous and Service Technicians will need to wear protective clothing, high-visibility vests and in some cases hard hats. For some jobs you may also need safety glasses and welding aprons. 
A clean driving licence and reliable transport is essential. 
Content
Salary
Salaries vary with experience, qualifications and between companies, but here's a guide to what you can expect.
Content
Getting started
Experience is an advantage, but training is usually provided.
Employers are looking for people who:
Have an interest in the natural environment, conservation, land management and public access

Enjoy practical hands-on work

Like working outdoors

Enjoy problem solving.
What experienced workers can do
Diagnostics

Advanced engineering

Be able to operate plant and machinery

Mentoring and coaching

High level of engineering and management skills

Providing land-based machinery technical support and advice to colleagues

Servicing and maintaining a wide range of plant and machinery

A high level of IT literacy for machine diagnostics

A driving licence. 
If you are self-employed you will also need to be good at:   
Time management

Budgeting

Financial management

Business management

All round knowledge of the engineering business.
Personal qualities you should have
The ability to work alone or in a team

Good communication skills

Able to solve problems.
Content
Next steps
It is possible to enter land-based engineering as a Trainee Service Technician.
The two routes for entering the industry are through a Modern Apprenticeship or Industry Apprenticeship with a dealer or manufacturer. 
Having a clean full driving licence will also improve employment opportunities.
Experienced Service Technicians may be able to progress to a wider range of specialist roles once they have qualified and completed a Modern Apprenticeship, including:  
Green crop

Combine

Tractor

Forestry/harvesting or diagnostic technician

Master technician

Workshop supervisor

Service manager

Sales representative.
There may also be opportunities for self-employment and building a successful business. 
You could also move into training within a college or into sales or managerial positions. 
Useful links
Agricultural Engineers Association
British Agricultural & Garden Machinery Association (BAGMA)
Institute of Agricultural Engineers