Content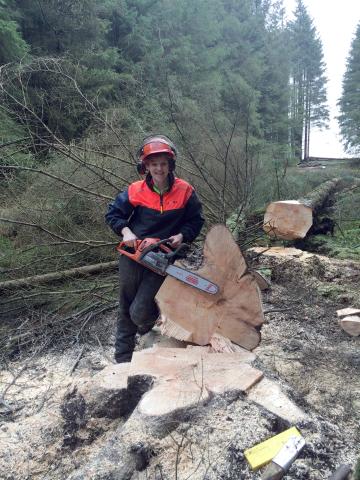 A tree surgeon is a climber who takes part in all the areas of tree work. Duties will primarily include domestic, commercial, street or park tree pruning and removals. In some situations, work duties can also include tree planting, tree hazard assessment, diagnosis, and pest control.
The tree surgeon's work really begins once they have climbed into the tree.
In addition to tree pruning, branch removal and felling, they may also undertake work such as cable bracing and inspections to assess the health of trees. Work is usually done from a rope and harness but may involve the use of mobile elevated work platforms.
Duties may also include landscape and other non-arboricultural duties such as tree and shrub planting.
Working Conditions 
Work can be physically demanding and outdoors in all weathers.
Tree surgeons typically work full-time.  However, the hours may vary and weekend or Bank Holiday work can be required. Some work for a company while many are self-employed.
Depending on the area covered, there may be a significant amount of travelling between different sites.
Content
Salary
Salaries vary with experience, qualifications and between companies, but here's a guide to what you can expect.
Content
Getting started
Individuals becoming Climbers are likely have worked in the industry, usually as a Groundworker. Some may enter the industry having undertaken a full-time training programme and so already have some experience of climbing.
Employers are looking for people who:
Enjoy working outside

Have a good head for heights

Enjoy practical and physical work.
What experienced workers can do
Identify tree species and their properties

Crosscut timber using a chainsaw

Carry out aerial pruning of trees

Carry out aerial rescue operations

Establish and maintain working relationships with colleagues

Prepare and use equipment and machines

Carry out routine maintenance of chainsaw and cutting system

Carry out aerial tree rigging

Felling trees

Use of a chainsaw from a MEWP

Carry out emergency treework operations

Manage specimen trees.
Personal qualities you should have
Energetic

Attention to detail

Safety awareness

Problem solver

Flexible.
Content
Next steps
With experience and training, new entrants to the arboricultural industry should progress to undertake work as a basic tree worker and they may then train as a Climber. 
Climbers may train to work from a mobile elevated work platform (MEWP) as well as being able to use a rope and harness. 
As they gain experience they might choose to take further training and assessment to be able to undertake tree bracing, tree dismantling (sectional felling), felling of large trees and various other skills.
Although the career structure will vary depending on the organisation, an experienced climber may be able to progress to the role of Team Leader.  Some workers may specialise by working in areas of tree care such as commercial or utility arboriculture.
Useful links
Confederation of Forest Industries