Content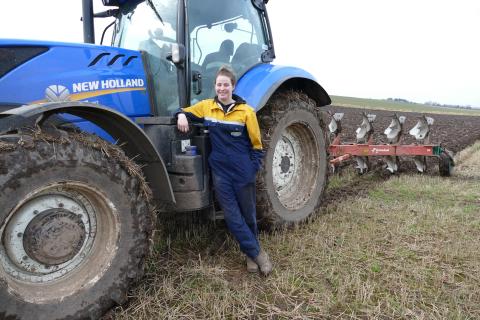 An Agricultural Machinery Operator is involved with a wide range of activities on a farm from tractor driving to the harvesting of crops, which could be either cereals or vegetables, as well as the operation of any other agricultural machinery. 
The role will include the operation, maintenance and cleaning of the combine or machinery, and sometimes basic repairs. 
Agricultural Machinery Operators may work on a large farm or for an agricultural contractor.
Crops can include:
Combinable crops - wheat, barley, oats and sugar beet, some of which are grown for human consumption, others for animal feed

Vegetables - some may be sown directly from seed, others planted out as seedlings

Non-food crops - these include linseed, hemp, flax and oilseed rape

Energy crops - these can be grown for power and heat generation, and for the production of liquid fuels.
Working Conditions
Agricultural Machinery Operators generally work at least 40 hours a week plus paid overtime when necessary. Early mornings, evenings and weekends are all necessary during busy periods like harvest.
 Making the most of good weather can mean working for long hours and ensuring that machinery can be relied on.
Work can be seasonal and required when the crops are ripe for harvesting. Drivers are likely to operate other agricultural machinery throughout the year depending on requirements.
Machinery can cost hundreds of thousands of pounds and be highly technical. Most machines will have an enclosed cab with air conditioning for the operators comfort and safety, computers to drive and provide the operator with the information on the crops they are harvesting.
Content
Salary
Salaries vary with experience, qualifications and between companies, but here's a guide to what you can expect.
Content
Getting started
Experience is an advantage, but training is usually provided.
What employers are looking for
Enthusiasm

Motivation

Leadership and management skills

Strong planning, organisational and communication skills

Understanding of associated software systems
What experienced workers can do
Maintain good standards of health and safety for self and others

Maintain environmental good practice at work

Operate a power vehicle

Prepare a power vehicle for operation

Carry out maintenance procedures

Prepare equipment and machines for maintenance

Prepare power tools and attachments for use

Operate a tractor or other self-propelled vehicle and its attachments

Prepare harvested crops

Maintain and control harvesting operations

Maintain safe working with noise, dust or vibration (MSDs)

Operate plant and machinery.
Personal qualities you should have
Good timekeeping

Able to work alone

Initiative

Attention to detail

Able to solve problems