Content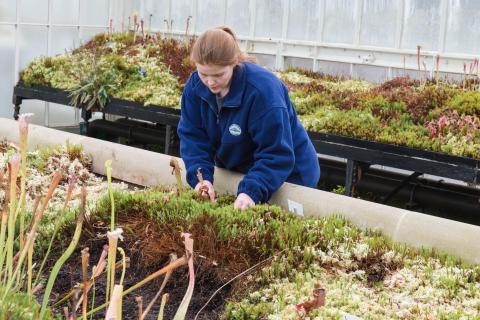 A Deputy Head Groundsman or Deputy Head Greenkeeper will report directly to the Head Greenkeeper or Head Groundsman and will be responsible for ensuring the team of ground staff carry out the maintenance, care and presentation of the sports area. 
They will be responsible for ensuring the maintenance of a range of surfaces for sports including: football, cricket, rugby, tennis, bowling, horseracing, golf and athletics.
Employers can range from the public sector, to private clubs, to contractors.
They work with the Head Groundsman or Head Greenkeeper to ensure the playing surface is maintained in a good and safe condition. It may be made of natural turf, synthetic turf or a combination of both.
Deputy Head Greenkeepers tour the course at the start of the day to prepare it for play. This can require very early starts to ensure the best playing surfaces are available. Greenkeepers also need to be constantly aware of golfers on the course, making sure their work does not interfere with play, and must keep health and safety at the forefront of all their activities.
Sometimes Deputy Head Groundsmen may be involved in the construction of a new surface, which can involve reading drawings, preparing the land and making sure there is sufficient water and good standard of drainage to the surface.
They must also ensure that all equipment is checked and correctly set before use. This may include cleaning the equipment and safely storing it after use. Groundspersons will be trained in basic mechanical maintenance to undertake these tasks.
Deputy Head Groundsman or Deputy Head Greenkeeper may also need to answer queries from members of the public and deal with outside contractors. Their duties may require them to place orders and take responsibility for deliveries of products such as top dressings and fertiliser.
Some ground staff work as self-employed contractors and some specialise in particular areas of the work, such as football ground maintenance.
Working Conditions 
Ground staff usually work 37 to 40 hours a week. However, actual working hours depend on the time of year, where they work and any special events taking place on the sports pitch or court.
The hours can be unsociable and involve evenings and weekends, especially when working for professional sports clubs, which may play matches under floodlights.
Ground staff spend much of their time working outside and will be walking, lifting and bending. In some cases, a Deputy Head Groundsman or Deputy Head Greenkeeper may need to travel around a large site, or to divide their time between several locations. A driving licence is usually required for this role.
Content
Salary
Salaries vary with experience, qualifications and between companies, but here's a guide to what you can expect. There may be extra payments for overtime and working unsociable hours, and accommodation is sometimes provided.
Content
Getting started
You should have an interest in sports turf, working outdoors and practical hands on work such as gardening or general horticultural work. Greenkeepers should be interested in golf and the challenges that players expect from a course.
Including volunteers, the Institute of Groundsmanship (IOG) has estimated that there are more than 100,000 ground staff in the UK.
Grounds staff are mainly employed by organisations that manage playing fields and other leisure facilities. These include local authorities, which maintain over 50% of all sports surfaces in the UK, sports clubs, landscape contractors, schools and colleges, and golf clubs.
There are around 15,000 Greenkeepers working in the UK. Employers include:
Private golf clubs

Local authority leisure departments that operate public golf courses

Hotels with golf facilities

Ground maintenance contractors.
In recent years the promotion of the link between playing sport and good health has meant more leisure facilities and more opportunities for ground staff, particularly those with the right qualifications or aptitude to working in the industry.
Jobs are available throughout the country, with the most opportunities in more heavily populated areas.
Summer jobs and work experience are useful as they show an understanding of the techniques and the equipment needed to do the job. Seasonal jobs may also be available for unskilled trainees.
It is useful for ground staff working in a particular sport to have a good knowledge of that particular game.  
Although ground staff do not need formal qualifications, it can be helpful to have some experience in gardening or horticulture. With this type of experience there may be opportunities to begin work as an unskilled groundsman. It may also be possible to enter this career through an appropriate Apprenticeship scheme
What experienced workers can do
Plant and soil science

Use of all relevant machinery

Good knowledge of irrigation and drainage methods and equipment

Knowledge of the relevant sports regulations

Communication skills.
Personal qualities you should have
Flexible

Enjoys working out doors

Good communication skills

Can work well as a team or on own.
Content
Next steps
Promotion often depends on the size of the business and can also depend on the achievement of higher-level qualifications.
The IOG offers a range of courses for people who want to continue their professional development or specialise in particular areas of the work.
Some ground staff move into leisure management or estate management. Others set up their own grounds maintenance companies or work for, or as consultants. Those with the right academic qualifications may have the opportunity to carry out research work.
Deputy Head Greenkeeper with suitable qualifications and experience can move into supervisory positions and then become Course Managers. Some may progress to manage several courses by becoming Estate Managers.
An understanding of the techniques and science of different playing surfaces can lead to employment opportunities in other sports. It may also be possible to move into agronomy or golf course design.
There may also be opportunities to become self-employed and to work overseas.
Useful links
British Association of Landscape Industries
British International Golf Greenkeepers Association
Greenkeepers Training Committee
Horticultural Trades Association