Content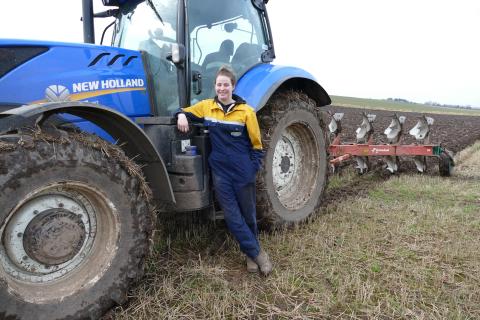 General Farm workers are employed to carry out work on arable and livestock farms. What they do varies from season to season and involves planting, tending and harvesting a range of crops, looking after livestock and milking.
General Farm Workers carry out a wide range of tasks such as:
Driving small vehicles to collect or deliver materials and livestock

Looking after hedges and areas of woodland

Maintaining vehicles and machinery

Maintaining the health and welfare of livestock

Milking dairy cows

Cleaning maintaining and repairing buildings

Using tractors for ploughing, drilling seeds, spreading fertiliser and spraying crops

Using other machinery, such as combine harvesters and balers.
They work under the supervision of the Farm Owner, Manager or a Supervisor or even a Land Owner who owns or rents the land. General Farm workers may also supervise casual staff.
Working Conditions 
General Farm Workers generally work as least 39 hours per week, but may need to do overtime during busy periods such drilling, harvesting, lambing or calving. There are also opportunities for part-time and casual work.
Farming is seasonal and some times of the year are busier than others. Most jobs involve working outdoors in all weather conditions.
Content
Salary
Salaries vary with experience, qualifications and between companies, but here's a guide to what you can expect.
Content
Getting started
General Farm Workers do not need any particular qualifications to enter the job, but it helps to have an interest in farming and in using agricultural machinery.
Experience of working on a farm, either through work experience or a weekend or holiday job, may also be useful. It may be possible to enter this career through a Modern Apprenticeship.
The majority of jobs are in rural areas, although the exact type of farming that is carried out in an area depends upon the climate, type of soil and local markets.
Agricultural colleges run a range of relevant full-time courses that can be taken prior to starting work.
What experienced workers can do
Operate a tractor with attachments

Assist with maintaining the health and well-being of livestock

Prepare feed and water supplies for livestock

Preparing the ground for planting

Monitoring and maintaining the growth of crops

Control the movement of livestock from one location to another

Establish and maintain livestock in their accommodation

Assist with preparing livestock for, and conducting non-surgical procedures according to legislation

Assist with the correct application of approved ear tags according to legislative requirements

Maintaining bio-security.
Personal qualities you should have
Problem-solving

Work in a team

Work on your own

Communication skills

Flexibility

.
Content
Career options
With the right qualifications and experience, General Farm Workers can gain promotion to Supervisor or Unit Manager on a large farm. There is competition for these vacancies, and movement from farm to farm to gain experience and promotion is usual.
Working on a larger farm offers more opportunities to specialise, where there may be opportunities to complete specialist training and become part of a Continual Professional Development (CPD) scheme.
For those wishing to progress into farm management a degree course in subjects such as agriculture or farm management may be an option.
There may also be options to work abroad.
Industry links
British Institute of Agricultural Consultants
National Farmers Union Scotland
Scotland's Farm Advisory Service
Scottish Tenant Farmers Association