Content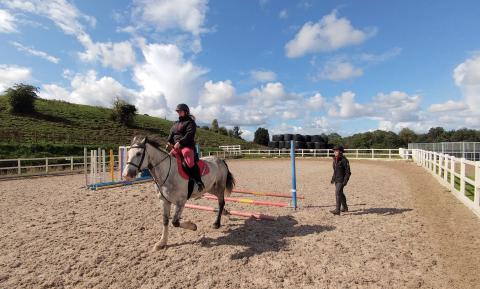 Grooms will undertake all the practical horse care tasks of looking after horses on a daily basis to ensure that they remain healthy, happy and in good condition. 
They may also be responsible for exercising the horses each day.  This will include exercising from the ground, riding out on the road, inside and outside schooling on the flat and over fences. 
Grooms will have some degree of responsibility for dealing with people.  This may include interacting with customers and at racing and competition yards you would be expected to interact with the owners too. 
Some Grooms may also be expected to drive a horsebox, so a qualification would be useful. 
In studs and breeding yards, duties will also include:  
Caring for and preparing mares for covering

Attending to mares and foals during and after foaling

Working with stallions

Assisting with embryo transfer procedures

Assisting with artificial insemination procedures

Keep in close contact with owners

Maintaining the stud records.
 In riding schools and trekking centres grooms you may also have to:
Greet clients

Lead riders out on foot

Accompany riders on horseback.

 
A Groom working in competition, hunting or racing yards, will prepare horses for events and may also accompany them.   
Working Conditions
Grooms work around 40 hours a week, but may work longer on occasions.  Part time and casual work may also be available.  Most of the work is outdoors, in all weather conditions.
There will be early mornings, late nights and weekend work.  Work can involve heavy lifting, carrying, bending, climbing and standing for long periods and stables can be dusty. 
Equestrian businesses are often a long way from town; sometimes in quite remote areas.  Therefore a driving licence may be useful.  Due to location and the nature of the job role, some grooms positions are 'live-in' and most involve travelling and staying away from home e.g. during competitions.
Content
Salary
Salaries vary with experience, qualifications and between companies, but here's a guide to what you can expect.
Content
Getting started
Experience is an advantage, but training is usually provided.
What employers are looking for
People who are interested in

the countryside

who appreciate the different needs of

public access by a wide range of users

People who are aware of

management of land and potential issues or conflicts.

 
What experienced workers can do
Maintain the health and well-being of equines

Maintain harness and saddles

Groom and clean a horse

Maintain your own health and safety and appropriate personal protective equipment required for this work

Be responsible under relevant animal health and welfare and health and safety legislation/codes of practice

Preparing horses for shows, racing or transport

Maintain records

Able to recognise signs of equine illnesses

.
Personal qualities you should have
Have a genuine interest in horses and their welfare

Good communication skills

Good organisation skills

Flexible and adaptable

Self-motivated

Be able to work alone or as part of a team.
Content
Next steps
With experience and relevant qualifications it is possible to progress to an Assistant Instructor Coach position. Career options depend on the size of the organisation, so you may have to move elsewhere.
Experienced Grooms may become:
Assistant Stud Manager or Yard Manager
Yard or Stud Manager

Riding Instructor.

Trainer

Jockey.

 
Grooms wanting to become Riding Instructors can take BHS, ABRS or specific coaching qualifications.
There are also opportunities to work and train abroad.
Useful links
Association of British Riding Schools
British Horse Society in Scotland