Content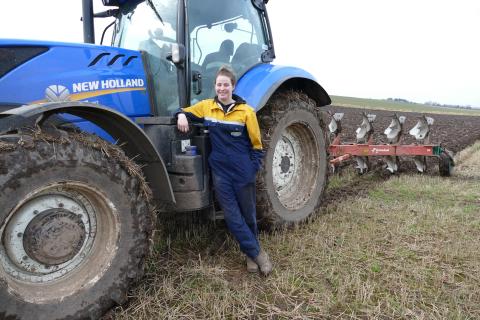 A Herdsperson is responsible for the livestock on a farm, making sure they are fed, watered and looked after to meet health and welfare requirements as well as growth targets. This may also include some responsibility for staff.
A livestock farm may have a range of animals at different ages. Some farms keep and rear their own replacement animals for those which have reached the end of their production period, while others buy animals in. 
On some farms, animals are reared for meat. They are fed specific diets to enable them to grow until they reach the correct weight and fatness, and are then sold through livestock markets and abattoirs.
Farmers take pride in producing a quality animal to high welfare standards to go into the food chain and a good Herdsperson is key to achieving this by:
Feeding correct diet rations

Monitoring health and condition and reporting any problems

Weighing the animals to monitor performance

Moving them to different fields and buildings

Ensuring animals are tagged and identified correctly.
Working Conditions 
A Herdsperson generally works at least 39 hours per week but may need to do paid overtime during busy periods. Early mornings, evenings and weekend work can be necessary, for example during the calving or lambing season to ensure help is at hand with any difficulties during birth.
The working conditions will depend on the farm. Some livestock are kept indoors and fed on silage, straw, or hay with grain, while other farms leave the livestock to graze on grass outside for most of the year, bringing them in for the winter months.
Many farmers do a mixture of both production systems depending on their grass growth, soil conditions, location and cattle breeds. A Herdsperson would be expected to work both outside and in livestock buildings.
Content
Salary
Salaries vary with experience, qualifications and between companies, but here's a guide to what you can expect.
Content
Getting started
To progress to a Herdsperson you may have started as a General Farm Worker or basic stock person gaining experience in working with livestock and undertaken further training. You should enjoy working outdoors with livestock.
A Herdsperson will need to have an interest in farming and in using agricultural machinery. Experience of working on a farm, either through work experience or a weekend or holiday job is valued by employers. 
It may be possible to enter this career through a Modern Apprenticeship.
On large farms there are likely to be specific Herdsperson vacancies. On smaller mixed farms, a Herdsperson is likely to be involved in other farm enterprises such as arable crops.
What experienced workers can do
Control the movement of livestock from one location to another

Promote and maintain the health and well-being of Livestock

Monitor the provision of feed and water to Livestock

Enable livestock to initiate pregnancy

Monitor and maintain livestock on outdoor sites

Manage forage production to support livestock

Manage grassland to support livestock

Manage grazing of livestock

Plan and implement breeding programme

Plan and manage health plans.
Personal qualities you should have
Problem-solving

Work in a team

Work on your own

Communication skills

Flexibility

.