Content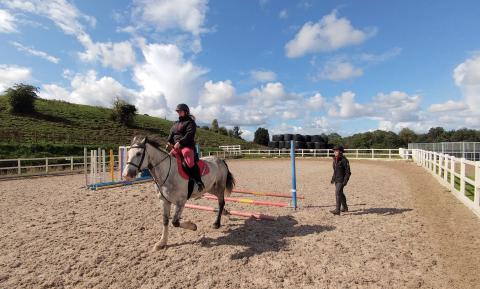 A Jockey is a highly trained professional, contracted by a licensed trainer to ride their horses at public race meetings.  They may race either on the flat (on a race track without obstacles) or across jumps (known as National Hunt racing). Jockys usually specialises in either flat or jump racing, although some take part in both. 
You would enter the industry as an Apprentice Jockey then work with a Jockey, Trainer or Owner to become a Jockey yourself after registering and gaining experience. 
Work would include:
Planning racing strategies with the owner and trainer

Taking advice from the trainer on tactics to suit the horse and the track

Riding every day to train and exercise the horses 

Riding at flat or jump races at race tracks around the UK.
Working Conditions 
A Jockey would work around 40 to 45 hours a week depending on the number of races they take part in. There will be a significant amount of travelling involved as they attend races at courses throughout the UK. 
The work is physically demanding, often involving early starts and late finishes.
A driving licence may be useful.
Content
Salary
Salaries vary with experience, qualifications and between companies, but here's a guide to what you can expect.
Content
Getting started
Jockeys usually start off working as a stable hand (also known as groom), work rider or as an apprentice, doing tasks like filling hay nets, sweeping the yard, mucking out stables, grooming, feeding and watering horses, and taking horses through exercises.
A Jockey's weight limit is about 9 stone 7lbs as a Jump Jockey and about 8 stone as a Flat Jockey.
The first step to become a Professional Jockey is to become employed on a racing yard as an Apprentice (flat racing) or Conditional Jockey (Jump Racing) and then attend training courses.
An Apprentice or Conditional Jockey receives training on the job. The trainer is responsible for choosing suitable horses to ride and deciding when riders are competent and ready to race, usually after about two years.
Apprentice /Conditional Jockeys then apply to the British Horseracing Authority for a license to ride. This includes a 5-day residential Apprentice or Conditional License course and a medical at the BRS in Newmarket or the NRC in Doncaster. 
Once the license, is awarded, an apprentice or Conditional Jockey would complete the Apprenticeship at the trainer's yard. You would usually do this between the ages of 16 and 25 (27 for racing over jumps), after which you can become a Professional Jockey.
To keep the license, Jockeys then need to continue their development by taking a 4-day Apprentice or Conditional Continuation course and an advanced Apprentice or Conditional course.
What experienced workers can do
Identifying, planning and setting programmes to improve your technical skills, physical capabilities and sporting commitments

Recognise signs of equine illness and deliver basic health care treatment to horses

Introduce young horses to equipment for the schooling of racehorses

Ride racehorses to improve performance

Assist with designing training programmes for racehorses

A high level of skill in riding and handling horses

Maintaining the health and well-being of equines.
Personal qualities you should have
The ability to work well with others

Good eyesight and fast reaction speeds

Determination and dedication

Fitness, strength and stamina.
Content
Next steps
There are more than 550 racing stables around the country, mainly in rural areas. Employment prospects for trained stable hands are usually good but progression to apprentice Jockey is difficult and becoming a successful Professional Jockey even more so.
A Professional Jockey may work for one trainer or owner, or ride for different trainers and owners as a self-employed jockey. There are opportunities to work for stables overseas, especially in Dubai, Japan and the USA.
Jockeys usually retire from riding by age 45 (35 for jump jockeys). At the end of the racing career, Jockeys can get advice on retraining and employment from the Jockeys Employment and Training Scheme.
Useful links
Association of British Riding Schools
British Horse Society in Scotland