Content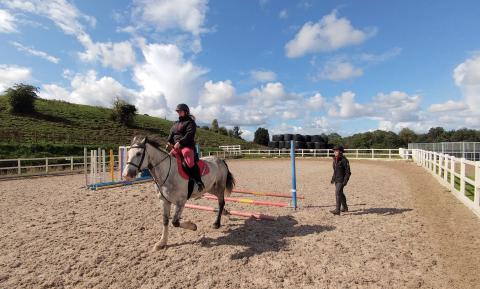 Riding Instructors and Coaches work with riders of all ages, levels of ability and experience ranging from complete beginners to more experienced competitors, depending on your own abilities. 
They will plan, deliver and review safe and competent lessons working with different levels of students as follows:
Trainee Instructor/Level 1 Coach

will support senior qualified coaches and instructors to teach students

Assistant Instructor/Level 2 Coach

will run coaching sessions for riders from beginners to Novice level, lunging of horse and rider to show improvement, and jumping to Stage 2 Level.

Intermediate Instructor/level 3 Coach

should be able to show genuine improvement of horse and rider, demonstrate sound practical business knowledge and be conversant with running a commercial yard.

Instructor/Level 4 Coach

is qualified to teach riders up to Advanced Medium Dressage, Intermediate Horse Trials and Foxhunter level show jumping.
Planning, conducting and reviewing coaching sessions is common at all levels of coaching.  The different levels of Instructor/Coach will be trained to coach in their specialist area and will prepare, deliver and review sessions in activities such as Dressage, Showjumping, Eventing, Horseball, Reining, Endurance, Driving, Riding for the Disabled, Vaulting, Polo cross and Western.
The role varies at different levels. 
Trainee Instructor/Level 1 Coach
Assist other instructors/coaches with lessons

Check the correct tack is being used

Assist riders where necessary

Lead novice riders. 
Assistant Instructor/Level 2 Coach
Work with individuals or groups who want to ride for leisure, prepare for competitions or achieve equestrian qualifications

Provide practical demonstrations to support others

Teach classroom theory sessions to support others.
Intermediate Instructor/Level 3 Coach
Work with individuals or groups who want to ride for leisure, prepare for competitions or achieve equestrian qualifications

Provide practical demonstrations to support others

Teach classroom theory sessions to support others

Attend events and be a role model at county/regional level

Prepare, deliver and evaluating annual programmes for rider development

Supervise others, such as Trainee Instructors/Level 1 Coach and Assistant Instructors/Level 2 Coach

Train horses, riding and schooling them from the ground. 
Instructor/Level 4 Coach
Manage and assess staff/trainees

Show that you are competent and confident in all aspects of horse care and management

Undertake practical handling skills

Offer sound theoretical knowledge to other coaches/instructors

Manage the business aspects of an equestrian establishment

Train a variety of horses using sound training principles both on the flat and over fences

Work with horses on the ground

Actively compete horses in affiliated competitions.

 
Working Conditions
An Instructor/Coach will have vast knowledge and skills of handling and riding horses.  They will also have lots of experience in different aspects of equine theory and management.  The hours of work may vary but usually will include evenings and weekends. The work can also be seasonal depending on location.
A driving licence is often useful.  Due to location some instructors work away from home or live in at the riding school.
The work can take place outside on grass, all weather arenas or in indoor arenas. 
Content
Salary
Some employers provide accommodation, food, free stabling for their employees' horses and riding instruction, so individual salaries may vary.
Content
Getting started
Although there are different ways to enter the industry you could begin as a groom within a stable and progress to Instructor after gaining experience and qualifications. 
There are opportunities to gain employment as a trainee instructor/Level 1 Coach, Assistant Instructor/Level 2 Coach or apprentice within a range or riding establishments. 
These could be members of Association of British Riding Schools (ABRS). The British Horse Society (BHS) riding schools have to be registered with the local authority but do not have to be members of any organisation. Riding schools can range in size from those with only one instructor to those employing a dozen or more.
Other routes to becoming an Instructor include; college, through competing in a specific discipline such as show jumping or dressage and training with the affiliate body.
What experienced workers can do
Carry out stable yard duties

Complete any administration required at your level of competence

Establish and maintain good customer service and working relationships with others

Monitor personal skills for instructing/coaching practice

Ensure that all coaching is carried out safely, fairly and in a suitable environment

Provide classroom and stable management lectures

Advise on safe and appropriate clothing and conduct

Prepare and deliver theory and practical lessons for individuals or groups at different levels of your own competence

Assess riders at your own level of competence

Give practical demonstrations to others.
Personal qualities you should have
Have a real desire to help people improve

Have a genuine interest in horses and their welfare

Good communication skills

Able to work in a team.