Content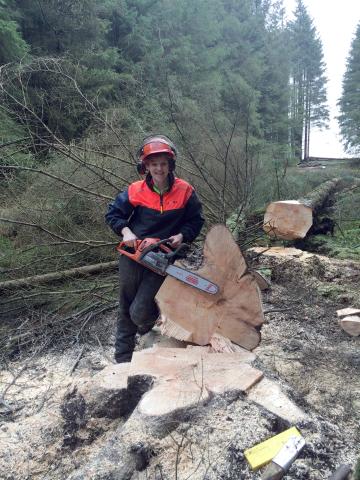 A Forestry Worker, also known as a Forest Craftsperson in Forestry Commission Scotland, cares for and manages woodland areas and forests. They are involved in tree establishment, protection, maintenance and timber production and also play an important part in protecting ecological and animal habitats, and enhancing the future landscape.
Duties usually involve:
Conducting forest surveys and assessing tree volumes and density

Carrying out tree safety inspections, marking and measuring trees to be cut down for timber production

Doing general groundwork to clear sites and undergrowth

Planting new trees

Digging or installing more efficient drainage systems

Controlling unwanted vegetation

Cutting back shrubs and other ground cover to promote the healthy growth of young trees

Brashing and pruning to promote healthy growth in older trees

Using specialist tools to thin out dense wooded areas and fell trees to improve access for operations and recreation

Harvesting trees, removing branches and cutting felled tree trunks into specific lengths

Identifying and protecting the forest against pests, diseases and disorders, particularly on young trees

Clearing footpaths and nature trails, and maintaining adjoining car parks and public areas.
To maintain recreational sites and enhance woodland areas for public use, Forestry Workers may be required to erect fences and gates, and install footpath signs and public information notices.
Forestry Workers may also assist in the tackling of forest fires. They are often responsible for checking and maintaining basic fire-fighting equipment located near wooded areas.
Some Forestry Workers may work with contractors specialising in one specific aspect of the work, such as harvesting or establishing and protecting new trees.
Working Conditions 
Forestry workers typically work 37 hours a week, Monday to Friday, although some overtime and weekend work may be necessary. Part-time and casual work is possible. Work can be seasonal and longer days may be necessary during peak times.
Forestry workers spend nearly all of their time working outdoors, in all weather conditions. The work can be physically challenging, with lots of lifting, climbing and walking through densely wooded areas.
A driving licence may be required.
Content
Salary
Salaries vary with experience, qualifications and between companies, but here's a guide to what you can expect.
Content
Getting started
While there is strong competition for jobs, demand for new entrants is constant. Around 50% of forestry workers are self-employed. They are normally hired for specific contracts, such as planting or felling trees. Contracts are often short term, typically lasting about three months.
Employers are looking for people who:
Enjoy working outside

Enjoy practical/physical work

Are interested in the environment.
What experienced workers can do
Maintain equipment and machines

Tree identification and properties

Plant trees

Maintain planted areas

Control unwanted vegetation by non-chemical and  chemical means

Fell and process trees using a chainsaw

Cross-cut timber using a chainsaw

Maintain paths and surfaces

Construct, maintain and repair boundaries, access points or site furniture

Identify and report the presence of pests, diseases and disorders.
Personal qualities you should have
Initiative

Self confident

Attention to detail

Safety aware

Able to work on your own

Energetic

Flexible.
Content
Next steps
Gaining experience and completing training courses in order to become competent in the use of specialist equipment will enable progression to craftsperson status. 
Thereafter, promotional prospects can vary depending upon the nature of the employer. With large employers, such as Forestry Commission Scotland, it may be possible to progress to Senior Forest Worker or Works Supervisor.
In smaller organisations you may have to change location or employer to progress.
Many experienced Forestry Workers become self-employed and contract out their services.
With further training and qualifications, it may be possible to advance to Forest Officer level.
Useful links
Confederation of Forest Industries