Content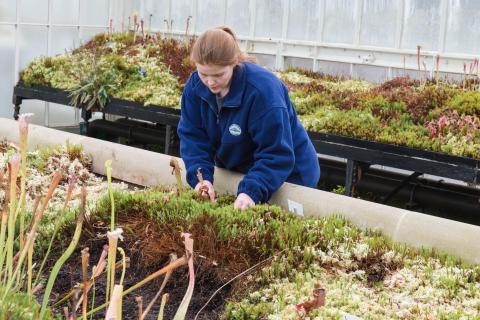 Landscape Managers specialise in planning, designing, supervising and managing projects relating to the green space environment. They make sure that developments are suitable and advise others on the long-term care of the landscape.
Their work can be found everywhere from inner-city squares to shopping centres, parks, coastlines and countryside. Whether they are transforming a derelict industrial area or designing a landscape to complement a heritage site, Landscape Managers aim to produce pleasant places to live, work and relax that are environmentally friendly and sustainable.
There is a huge demand for well-designed green space areas and Landscape Managers are key players in tackling climate change, developing sustainable communities and regenerating towns and cities across the country.
They work on a wide range of landscapes, including:
Nature conservation areas and wildlife parks

Historic gardens

Woodlands (including those used for recreation)

Motorway verges

Public parks

Housing estates.
Landscape Managers rarely carry out practical work but they do use their knowledge of plants and the environment to advise on the long-term, sustainable care and development of the landscape.
Tasks vary from job to job but may include:
Talking to clients about projects

Surveying sites and investigating its resources

Deciding on appropriate sites for features such as footpaths

Consulting those who are near proposed developments

Overseeing the work of employees and contractors

Advising on planning applications and public enquiries

Estimating the costs of constructing the landscape and maintaining it once it is complete
Working Conditions 
Landscape Managers in the public sector usually work a standard full-time week, Monday to Friday. This may include evening meetings and additional hours to meet deadlines. Those in private practice may work longer, more irregular hours. Part-time or flexitime work may be available.
Landscape Managers are usually based in an office and may spend a lot of time attending meetings. Some jobs involve travelling to sites and working outdoors in all weather conditions. Walking, often over rough ground, and some climbing may be required. A driving licence may be useful.
Content
Salary
Salaries vary with experience, qualifications and between companies, but here's a guide to what you can expect.
Content
Getting started
Landscape Managers are employed by a number of organisations, including local authorities, national government and charitable organisations. Some work for private sector companies involved in building, civil engineering, mining, power supply and land reclamation or in private landscape practices. There are opportunities throughout the UK.
There are no specific qualifications required for this role but competition is fierce and many have a degree or HNC/HND in a subject, such as environmental science, biology, surveying, geography, ecology or countryside and environmental management.
Voluntary or temporary work may help your career prospects. It may be possible to start in a more practical role as a Landscape Assistant, and after getting training and experience, to apply for jobs in landscape management.
What experienced workers can do
Plan, run and evaluate projects

Recruit, select and keep colleagues

Build and maintain effective customer relations

Co-ordinate the management of planted areas

Estimate resource requirements and programme work for landscaping

Manage a budget for your area/s of responsibility.
Personal qualities you should have