Content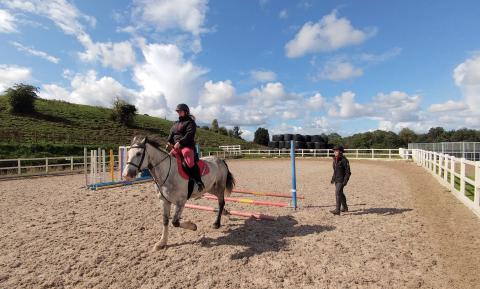 Jobs vary depending on the employer but the main tasks are usually:
Assess riders' ability and confidence and choose horses or ponies to suit them

Explain safety procedures and riding techniques, such as mounting, dismounting and halting

Make sure that all riders wear appropriate clothing and follow safety procedures.
Trek Leader Centre Operators may also be responsible for:
The care of horses or ponies

Planning routes

Making sure that tack is kept clean and in good order

Checking the standard of grooming and the general care of horses and ponies.
Trek Leaders may have to organise yard staff and train Assistant Ride Leaders. They must also be able to take temporary charge of the centre when the owner or manager is away.
Working Conditions 
Working hours tend to be long and can include evening and weekend work, especially during the main holiday period. Many Trek Leaders work part-time or seasonally. Most of the work takes place outdoors in all weather conditions.
Trek Leaders organise and run horse and pony riding activities, particularly treks and hacks across open countryside. They may work with groups or individuals and visitors can be first-time riders, through to experienced riders.
With the right qualifications there may be opportunities to work abroad. 
Content
Salary
Some employers provide accommodation, food, free stabling for their employees' horses and riding instruction, so individual salaries may vary.
Content
Getting started
Trek Leaders need good riding skills and experience of horse care and management. Some Trek Leaders have first worked as Assistant Trek Leaders escorting up to six riders on short rides, treks or hacks, and helping Trek Leaders on rides or treks which are longer or have more riders.
Volunteering and seasonal work can be a good way to get started.
What experienced workers can do
Maintain the health and well-being of equines

Maintain tack

Restrain a horse when necessary

Groom and clean a horse

Recognise signs of equine illness

Maintain records

Map reading skills and familiarity with the local countryside

Communicate with others. 
Personal qualities you should have
Have good riding skills

Have good customer service skills

Have good communication skills

Be able to meet the physical demands of the job

Flexible about working hours and location

Self-motivated.
Content
Next steps
Trek Leaders may progress into specific jobs such as in an equine tourism centre. They may also have the opportunity to progress to Yard Manager or Riding Centre Manager but this will depend on the opportunities available and may mean moving to another establishment.
Useful links
Association of British Riding Schools
British Horse Society in Scotland