Content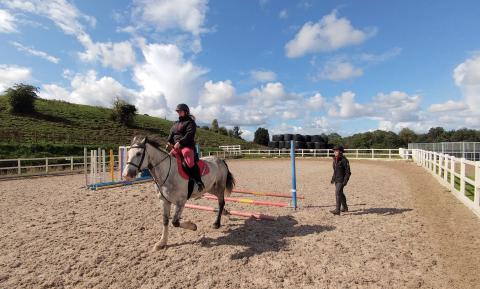 Yard Managers are employed by equestrian business owners to make sure the yard runs efficiently. They are responsible for the daily running of the yard, including managing staff, care of the horses, all aspects of health and safety and dealing with clients and owners.  This role is mostly office based.
As a Yard Manager, you may work on various types of yards, such as competition, breeding, training, riding schools, racing and trekking. Your work would depend partly on the type and size of the yard.  
On smaller equestrian establishments, you may have sole charge of a yard and do more practical work, such as looking after the horses, riding horses and yard maintenance. 
In competition, hunting or racing yards, Yard Managers may also prepare horses for events and accompany them.
In stud and breeding yards, duties may also include: 
Working with stallions, mares and foals

Assisting with foaling and handling youngstock 

Handling of mares and stallions during breeding, training of youngsters

Running competitions
Instructing

Transporting horses'

Promoting and marketing the establishment

Liaising with owners/clients

Driving HGV and non-HGV vehicles such as horseboxes, tractors and trailers.
Working Conditions 
Yard Managers work around 40 hours a week but may work longer on occasions. Early mornings, late nights and weekend working is a common practice for Yard Managers. 
Most of the work is outdoors, in all weather conditions and can involve lifting, carrying, bending, climbing and standing for long periods.
Equestrian businesses are often a long way from town, so a driving licence may be useful. 
Due to location and the nature of the job role, some Yard Manager positions are 'live-in' and most involve travelling and staying away from home e.g. during competitions. If you hold a 'live-in position you will have the overall responsibility of the yard and therefore may be called upon to respond to any emergencies or issues at any time day or night.
Content
Salary
Some employers provide accommodation, food, free stabling for their employees' horses and riding instruction, so individual salaries may vary.
Content
Getting started
Yard Managers need plenty of practical experience with excellent organisational and communication skills and the ability to run a business.  They will work throughout the UK and abroad. 
You could this industry as an Assistant Yard Manager then progress with experience to become a Yard Manager.
Potential employers include riding schools, private stables, competition yards, college equine units, polo yards, livery stables, producers, stud yards, hunting yards, trekking centres, horse rehabilitation centres and the armed forces.
To improve employment opportunities you should gain experience working on a yard as a Groom or Yard Assistant for a number of years whilst specialising in a specific area such as breeding.
What experienced workers can do
Maintain the health and well-being of equines

Plan the running of the equestrian yard

Recognise signs of equine illnesses

Maintain records

Manage budgets

Communicate with others effectively

Selecting, purchasing and selling of horses

Recruit, train and supervise staff.
Personal qualities you should have
Good communication skills

Genuine interest in horses and their welfare

Flexible about working hours and location

Self-motivated

Willing to undertake routine and practical tasks.
Content
Next steps
With experience and relevant qualifications you may be able to develop your skills in a number of directions.  This could provide you with more responsibilities with an existing employer depending on the size of the organisation, but you may have to move to another business.
Experienced Yard Managers may also become:
Instructor/Coach

Event Co-ordinator

Trainer (Racing)

Owner of a yard.
There may also be opportunities to work and train abroad. 
Useful links
Association of British Riding Schools
British Horse Society in Scotland